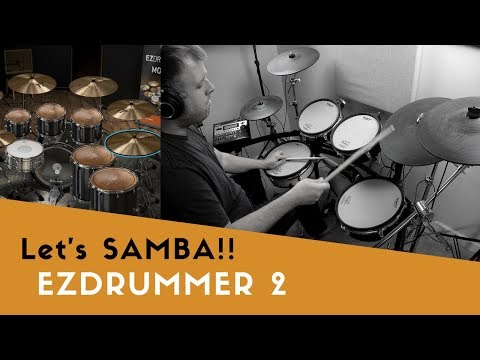 Finally picked up a copy of Jim Riley's "Survival Guide for the Modern Drummer" book. The 124 (!!!) playalong tracks that come with it are MORE than worth the cost of admission. This is seriously a fantastic educational resource for drummers.
This is track #107 - Brazilian Samba. I love this kind of music, but have never played it in any setting. So it's great to be able to record along to world-class musicians playing this style. Thanks Jim!!
Kit specifics:
EZDrummer 2 Modern - "Dry Rock" preset (modified). Crash cymbals from the Southern Soul EZX expansion
Kick: 16x26" Gretsch USA Custom
Snare: 6x14" Gretsch USA Custom Chrome over Brass dampened
Toms: DW Collectors maple (8x10", 9x12", 16x16")
Hi-Hat: 14" Sabian HHX Groove
Crash (left): 19" Zildjian A Thin Crash (Southern Soul EZX)
Crash (right): 20" Zildjian A Thin Crash (Southern Soul EZX)
Ride: 20" Paiste 2002
On the stereo drum bus, I'm using the "Drum bus" preset from EZMix 1.
On the final stereo mix, I'm using the "Reverb - Medium Dark" preset from EZMix 1 and a bit of EQ from a Cubase plugin.