This request fits nicely with all the recent discussion of E-Kits, Live Gigs and the right equipment. Even my question sometime back, asking if E-kits are only good for home practice... where many folks brought up some good points. My big take away is play my kit live and have the right equipment (PA) to let your kit be heard.
So, I know I'll continue on with my kit for band rehearsals and live gigs.
I am currently playing through a
Mackie SA1530
. I love it. It's actually too much for our small space rehearsals but I'm told it will more than be enough for a small to mid size gig. This thing is a monster at, I believe 110 lbs. It takes two men and a boy to move the thing. So for now it's adequate sitting in one place at rehearsal.
I'm looking to upgrade
to the same level of quality output, but
lighter
and
more portable
. Lets say budget is less than $1500-$2000. It was suggested by a friend, there are combo's of 10" PA coupled with a sub. Both, individually would weigh less, be very portable and actually might provide even better sound. He did not get into brands. I've got some ideas with QSC and JBL I'll go check out. I'll pick his brain more, but thought I'd pick this groups too?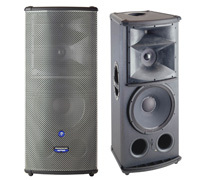 .