Hi Guys,
Been lurking on these forums for years, but here's my first post. Currently doing my second AtoE conversion, the first being TD3 based, and this one being based on the Megadrum + SD2.0.
Thought I'd post pics of my HiHat controller. Full credit goes to Dean, who I work with, and who first did this
here
and
here
. He has a video, and some other explanation on how it all works, I'm just posting what I did.
All I've really added is some packaging ideas, and a second opinion that this works great, and is soooo easy and cheap. I still don't understand why no one else really seems interested in the idea, so thought my pics might help illustrate how easy it is.
Parts:
1 x 3.5mm Socket (£0.28) - because I used 3.5mm sockets on my MegaDrum module.
1 x Hall-Effect Sensor A1302EUA-T (£1.30 - from
www.bitsbox.co.uk
) - Looks like a Transistor
1 x Magnet (Ring N45, OD. 12mm/ ID 9 mm) (€0.32, but min order of 10 at
www.supermagnete.nl
)
* Assuming you have a conventional HiHat stand.
Simply wire up the Hall-Effect sensor to the Socket, cable tie the Sensor into position so it will line up with the magnets, then cover in hot-glue to make sure it stays where it is. The distance between the sensor and Magnets when at rest, or at max distance does not matter during construction. Once it is built, just adjust the MegaDrum settings so that the Min and Max are at the correct levels.
So, all up, about 2 euros for a HiHat controller, where the natural movement of the HiHat pedal and cymbal is maintained, the top cymbal can be lowered and locked at 'fully closed', just like an acoustic (so no eClutches required), and there is no contact or wearing on any of the electrical components, as there would be with any potentiometer design....
My original layout included the bottom HiHat Cymbal, and I'd mounted the sensor in the bottom HiHat, however to reduce the noise, I've removed the bottom HiHat, and mounted the components into the bottom plastic .. uh, ... thing.... The top cymbal moves around a bit more, but I'm happy with it, and its silent.
Anyway... Pictures: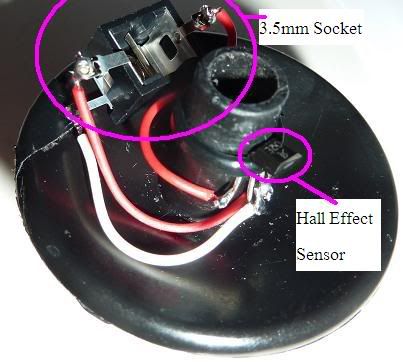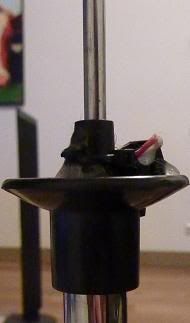 Again, Dean, and I are using this with MegaDrum, but I guess it would just be a matter of determining the correct ranges that other modules are looking for, and adding resistors / pots, rather than being able to do it in the MegaDrum settings.