As the title says, I decided to take youguys on a little history of my v-drumming.
Inspired by Tazed's thread, I decided to start from the beginning and will update as days go by, or at least until my eyes kick the bucket (that's actually due any time, however I'm not too scared by it).
To begin, V-drumming, for me started out with Rhythm games. I started in 1999 before they became popular here in the US. The game I played was DrumMania, which is a Japanese drum simulator. I got that down pretty good and when Guitar Hero and Rock Band came out with drums, I was already very well familiar with the concept...
After a while, I put down the game and started collecting the games' gear, including drum kits...
All Xbox 360, aside from 2 guitars
http://i102.photobucket.com/albums/m...trollers-1.jpg
Throughout the summer of 2009, I would hook up the drums to my computer and use them to trigger Fruity Loops. Eventually I got back into RB/GH and found out about mesh heads and how closed-circuit pieos worked. This actually inspired me to buy a set of GoodWoodMods drums, and built my first every DIY drum. It is a kick tower usng a Rock Band pad for the drum head.
My first ever DIY kick drum
http://i102.photobucket.com/albums/m...s/HPIM1264.jpg
The Goodwoods with the DIY kick
http://i102.photobucket.com/albums/m...s/HPIM1274.jpg
it actually worked flawlessly
http://i102.photobucket.com/albums/m...July-24043.jpg
In October, 2009, I started reading around for a more stable kick trigger and came across the Yamaha KP-65 Kick Towers. So, I bought 2 of them and connected them to my kit.
GWM's and KP-65's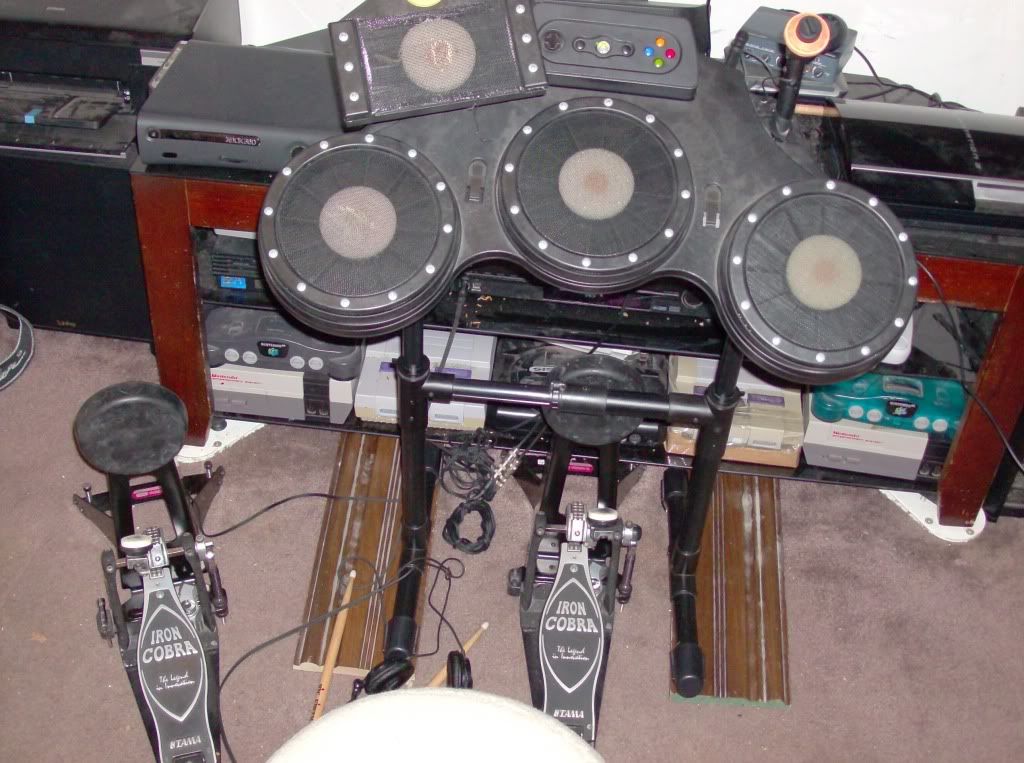 I, then, started searching around and watching YouTube videos of people using V-Drums to play GH/RB. I thought that would be neat, and I wanted a set of V-Drums since I could use them for practice. My budget, being very minimal, forced me to buy in parts, so I started by buyng a TD-3 Module in January of 2010, In March of 2010, I found this forum and met some sellers. On that note...
March of 2010, I had this setup for ROck Band and Frets On Fire.
April 2010, I met a seller on here who helped me out on a deal for some more PD-8 and CY-8 pads. My pad setup was complete.
PD8's PD6, PD9's KP-65 and CY-8's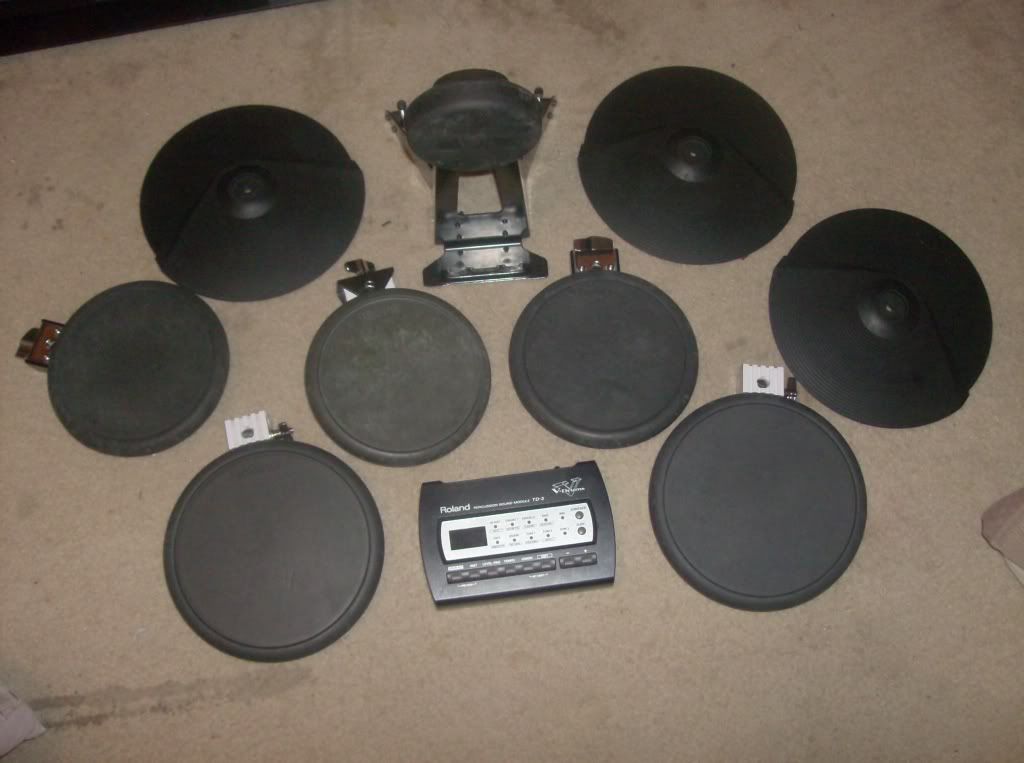 I still needed a drum rack. Cue Adam Cooney. In May, 2010, I finally had a complete TD-3 setup!
There she was!
August 2010, I did some hunting and decided I wanted to convert my old Tama A-Kit to an E-Kit. I also wanted an upgraded module from the TD-3. I searched around and found some helpful people that are willing to wok with me. I also changed up my MDS-3 and set up for 4 toms. My Ride cymbal bell was trigged on the rim of Tom 3.
Rebuilt MDS-3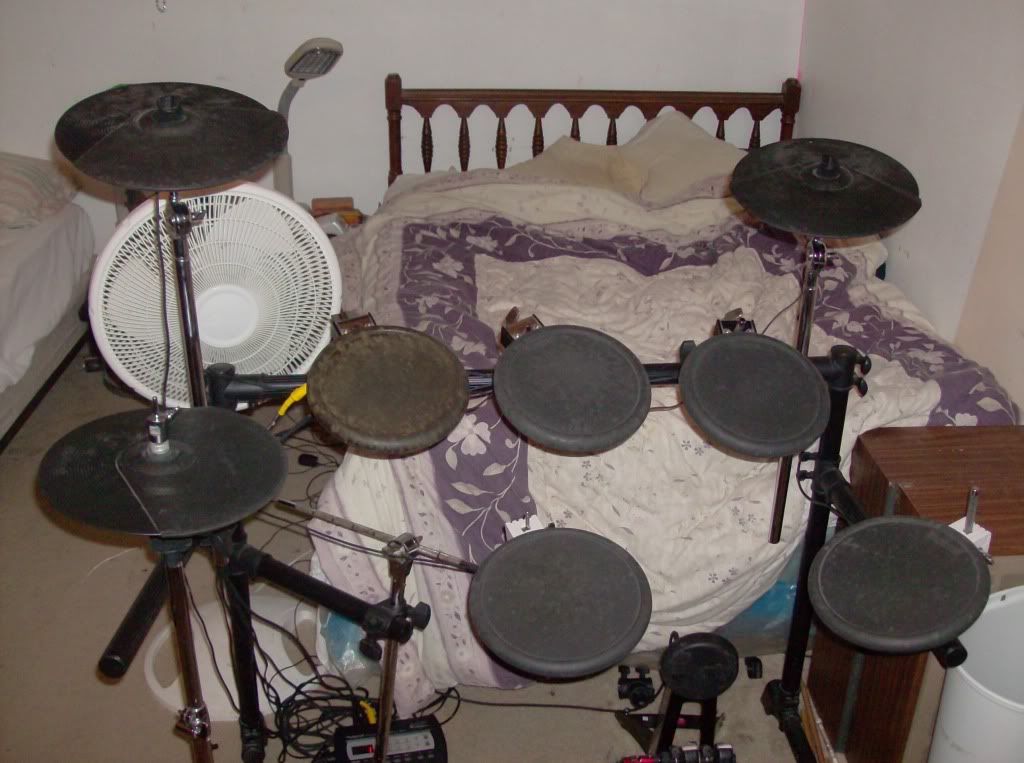 When I finished the DIY snare, I added it in to the mix
DIY Snare.
Kit with DIY Snare and HH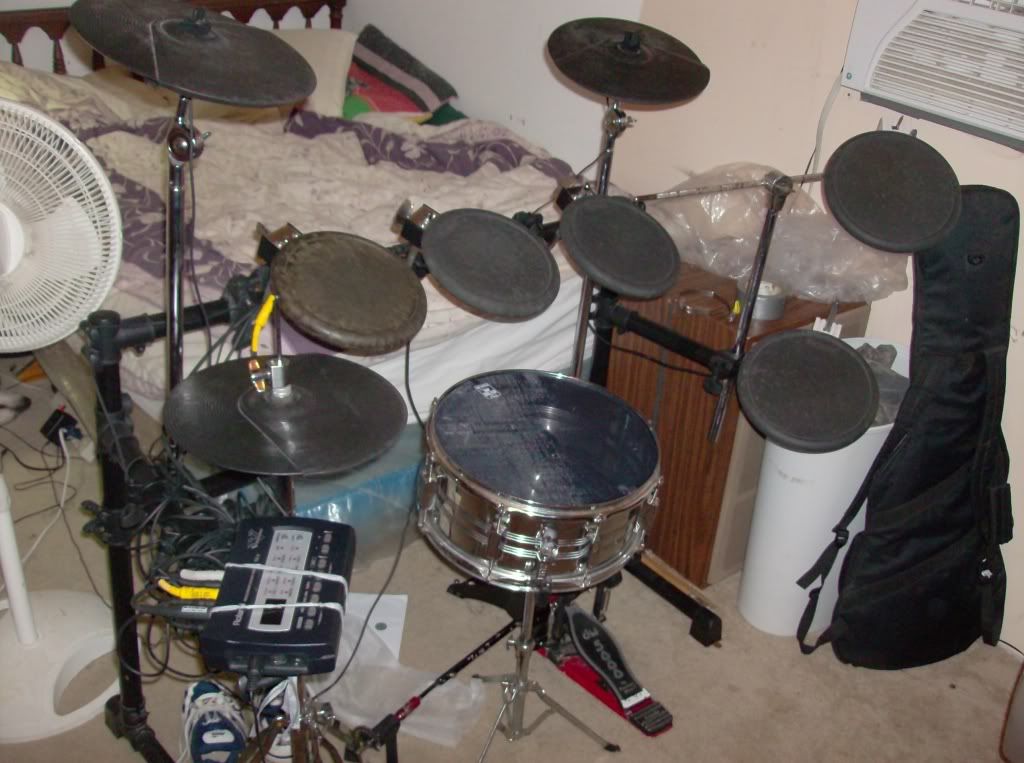 August, 6, 2010, I have completed the rest of the kit, however, I do not have heads for the drums, yet. I ran the 1/4" Stereo TRS jacks through the vent holes, keeping the Tama logo on the kit just because it looks better,
The rest of the shells
August 14, 2010, I purchased a TD-10 with TDW-1 from a user on here. Also, I rebuilt my kit to further accent the use of more inputs. I also added a PD-6 as tom 1 replacing my PD-8, whcih is now an extra cymbal between the two toms.
Redesigned kit with TD-10:
To Be Continued...